Open Courses of Slovak Language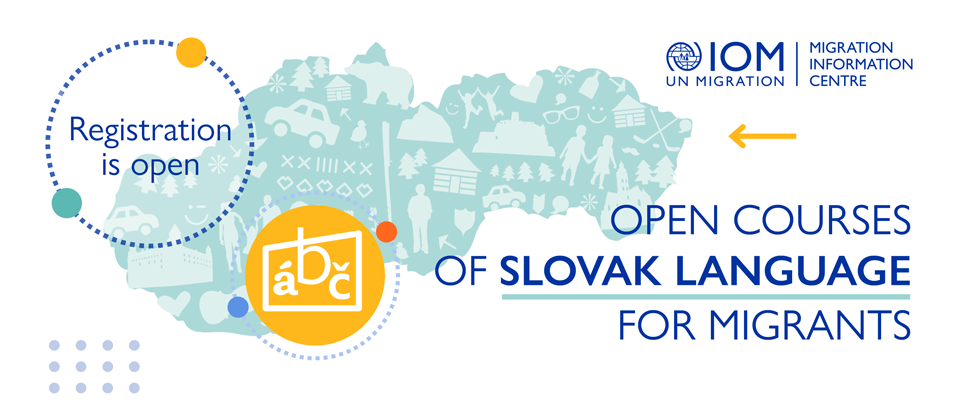 The IOM Migration Information Centre (MIC) organizes Open Courses of Slovak Language for foreigners, which are available for:  
citizens of non-EU/EEA countries who have temporary, permanent or tolerated stay in Slovakia, including applicants for temporary refuge and persons granted temporary refuge in Slovakia ("departees")
EU citizens with a university degree  
foreign university students studying at university in Slovakia 
Open Courses of Slovak Language organized by MIC are not certified language courses.
They serve as a first contact with the Slovak language and are recommended for beginners (A1).  
They are free of charge and without entrance tests 
They are intended for adult participants who have not attended these courses in the past (the course is not intended for children)
They are taught using interactive teaching methods, during which the emphasis is mainly on conversation and focus on learning the basics of the Slovak language in real situations and everyday communication (e.g. in the grocery store, at the bank, at work, with friends, at the doctor's office, etc.)
They are used to expand vocabulary and learn basic grammar
How do the free Open Courses of Slovak Language work?   
Lessons are 90 minutes long and take place at least 2 times a week
Lessons are usually taught in 3-month cycles
Group size is usually 20-25 participants  
Courses take place online or in person (in selected locations in Slovakia)
Courses are also linked to basic socio-cultural orientation about life in Slovakia  
Tips and links for free Slovak language study (websites and online materials) can be found here. 
UPDATE:
Registration for the September - December 2023 cycle is closed! There are only a few places left in the following courses:
Beginner's In-Person Courses for Ukrainians in Košice:
IN PERSON - Košice (17-A) Ukrainian Language Speakers, Beginners (MON, FRI, 7:30 - 9:00 CEST)-Kurz MIC AMIF - UKRAINE - Migračné informačné centrum IOM
Admission to the Open Slovak Language Courses is limited and there is no legal entitlement.