Activities of the IOM Migration Information Centre (MIC) as of 31 December 2019
MIC is a counselling centre of the International Organization for Migration (IOM) in Slovakia, whose main objective is to promote integration of migrants in Slovakia. It has been providing its services since 2006. MIC is the first and unique information centre in Slovakia that provides comprehensive services to foreigners at one place. MIC services include legal, social and vocational counselling, retraining and further education, inclusion in the labour market and support of community life of foreigners.
During its operation, MIC has provided free legal, social and labour counselling to 28,953 clients and their families in the main fields of life in Slovakia, such as residence, family, employment, business, education, citizenship and so on.
MIC's clients come from more than 160 countries, however most from Ukraine, Russia, Serbia, India, Iran and the US.
During this period MIC has provided 49,802 personal, e-mail or telephone consultations by mean of the information helpline 0850 211 478. Another unique source of information and advice in various fields of life and residence of migrants in Slovakia is also MIC's website www.mic.iom.sk, which has been since 2006 sought by more than 1,001,735 visitors.
The Visa Check web application provides information to foreigners from any country of the world who plan to come to Slovakia if they need visa to enter the country and what kind of residence permit is required if they want to study, work or do business in Slovakia. Since 2017 the application has been used by 9,622 persons from 181 countries, mostly from Ukraine, India, the US, Russia and Serbia.
Since 2012 MIC has been organizing days of specialized counselling to foreigners, so-called One-Stop Shops. This model of integrated counselling allows foreigners to arrange their agenda and to obtain information at one place, from the staff of several institutions. By 2019 MIC had organized 29 One-Stop Shops in Bratislava and in Kosice and received a positive feedback. Complex counselling was used by 498 foreigners from more than 30 countries.
MIC supports foreigners in obtaining education, increasing their qualifications or retraining and organizes free open Slovak language courses and courses in social and cultural orientation with information on various aspects of life in Slovakia – activities that facilitate integration of foreigners into the society. Since 2011, Slovak language courses in Bratislava, Košice and other cities in Slovakia have been attended by 9,166 foreigners and courses of social and cultural orientation by 1,387 foreigners. Additional 694 clients received support for further education and for a retraining course.
The Centre cooperates with cultural mediators – representatives of foreigner associations and communities in Slovakia. With the support of the Centre, they organize events through which they introduce the culture of the country of their origin to the public, support social life of the community, help their fellow countrymen and create space for mutual understanding of communities and the majority society. Since 2006, cultural mediators, with the support of MIC, have organized 195 multicultural and community information meetings for 14,340 people.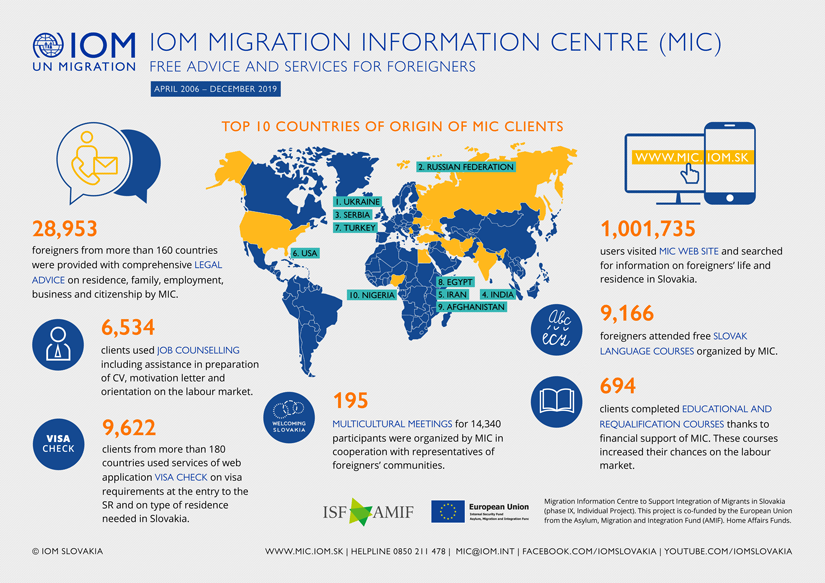 MIC provides foreigners from outside the EU with free counselling and services in the following fields:
Legal Advice
Residence, employment, business, family reunion, housing, social security, healthcare and health insurance, education, citizenship and other areas of life and residence of foreign nationals in Slovakia.
Labour and Social counselling
Orientation in the labour market, assistance with job search, CV and a motivation letter drafting, support in communication with employers, preparation for a job interview, contacting institutions and support in obtaining social benefits, on-site social work.
Support in Education, Retraining and Open Courses of Slovak Language
Assistance with skills and qualification assessment, advice on educational and retraining courses, financial contributions towards educational/retraining courses, information about study opportunities in Slovakia, language training through open language courses.
Cooperation with Communities of Foreigners
Promotion of community life of foreign nationals in Slovakia, support of cultural and social activities of foreign nationals, training for representatives of communities of foreigners.
Capacity Building for Key Stakeholders in the Field of Migration
Training activities for the representatives of state administration, self-governments and non-governmental organisations aimed at promoting intercultural and communication skills.
Migration Information Centre to Support Integration of Migrants in Slovakia (phase IX, Individual Project). The project is co-funded by the European Union from the Asylum, Migration and Integration Fund (AMIF). Home Affairs Funds.